A simple and affordable document management system
TypeFellow is a cloud-based software for typing centers, Amer centers, and similar organizations that helps to organize and securely store your customer documents. It also helps to avoid unnecessary fines and other organizational burdens by sending automated reminders via WhatsApp, SMS and Email to you and your customers.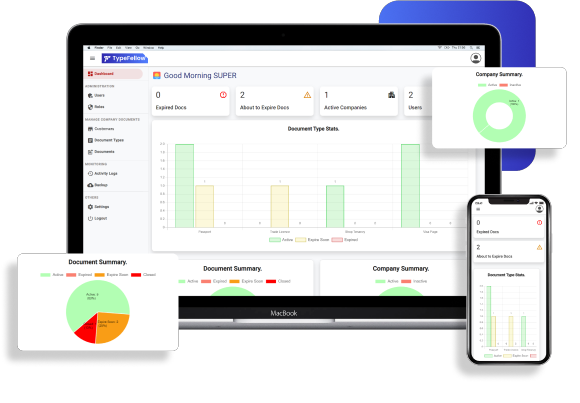 WhatsApp, SMS & Email Reminders.
Automated WhatsApp, SMS, and Email reminders of expired and about to expire documents of all your customers like Insurance card, Emirates Id, Visa, Passport, Shop tenancy, etc…
TypeFellow helps to track and manage customer document status easily along with advanced search and filter options. Also provides Powerful reports with graphical analysis.
Manage and Organize Customers
The organization is a foundational element of any business. if you are well organized, it would be much easier to effectively run your business and you can easily find where your client's documents or information in seconds. It may help to save both cost and time to a great extent.
Increased Customer Satisfaction
Customer portals can enhance customer experiences by offering extra channels for communication and easy access to their relevant information. When you make accurate, on-time information available to your customers, you are seen to be responsive to their needs. This gives you a much better chance of retaining that customer.
Powerful collaboration with customers leads to better customer loyalty and satisfaction.
Grow your business with TypeFellow